| | | | |
| --- | --- | --- | --- |
| Poster: | He Live's | Date: | Jan 21, 2009 7:05pm |
| Forum: | GratefulDead | Subject: | Re: What about 1976? |
what about it? they ripped that year. they could still pull off an honest deep space playin in the band, help>slip was hot to trot, and DANCIN in the streets found the boys really learning how to groove with the two drummers.
a lot has been said :
http://www.archive.org/iathreads/post-view.php?id=188473
http://www.archive.org/iathreads/post-view.php?id=176025
there are bunches more, i just can't find em all right now -- and i like most of the shows i have heard from this year. JUNE AND OCTOBER were smokin, hot stuff -- good WHARF RATS too! they did work with a limited book of tunes though. the amount of songs was cut way down in favor of more "robust" arrangements. you might get 6 or 7 8-10 minute tunes instead of 11 or 12 6 minute songs. so, just like listening to any given year "too much" BURNOUT is probable if you over-do it -- i suggest you listen to an acoustic set from 80, a little dawg music, a 60s death don't have no mercy and then ease back with a 74 show to cleanse the palate.
oh there's just heaps a good in 76, try out this jam from colt park 8/2/76, Playin>Wharf Rat>Jam>GDTRFB>Playin.... oops no SBD of that one, sorry man. 9/24 has a big playin at the end of set 1 and help>slip buried in the middle of the second.... but alas, only AUD is around. CLIFF... you're hard to shop for!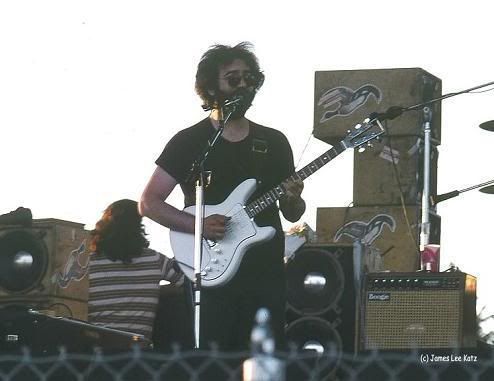 OH, and if you wanna talk setlists, how bout this second set? 09/27/76
War Memorial Auditorium - Rochester, NY
Set 2:
Might As Well
Samson And Delilah
Help On The Way>
Slipknot!>
Drums>
The Other One>
Wharf Rat>
Slipknot!>
Franklin's Tower
Around And Around
and they didn't let up one bit and came back with a stellar show the next night too:
09/28/76
Onondaga War Memorial Auditorium - Syracuse, NY
Set 1:
Cold Rain And Snow
Big River>
Bertha
Cassidy
Tennessee Jed
New Minglewood Blues
Candyman
It's All Over Now
Friend Of The Devil
Let It Grow>
Goin' Down The Road Feelin' Bad
Set 2:
Playin' In The Band>
The Wheel>
Samson And Delilah>
Comes A Time>
Drums>
Eyes Of The World>
Dancin' In The Streets>
Playin' In The Band
very filling!
This post was modified by He Live's on 2009-01-22 03:05:41